Volunteers
Have you some time on your hands, skills you'd like to share or simply want to help out? Join our team of volunteers – you would be very welcome!
Call in at the Centre for more information.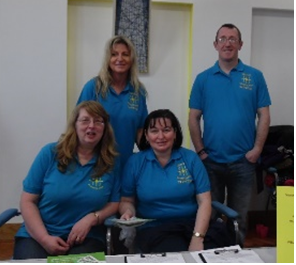 At our recent Community Open Day, some of our volunteers were available to answer any questions visitors had about the many opportunities to volunteer. Our volunteers have been helping out at 'Meet and Eat'; 'Messy' and other community events and have recently organised a 'Sing-along to Mamma Mia' evening.
We asked one of our volunteers to tell us how she feels about being a volunteer.
"My name is Mary and I have been volunteering at St John & St James's Church since last September. I work full time and have a 6 year old son but wanted to do something worthwhile in helping my local community".
"I have made a lot of new and lovely friends both within the volunteering group and within the church itself, one of whom I had gone to school with and hadn't realised all these years that she lives right around the corner from me. It's great how it brings us all together!"
"We all live such busy lives these days and we tend not to even know our closest neighbours. I would like to try and help make things change so that we can get to know our local community more and help each other out (just like the Good Old Days)".
"The Volunteer Group does not mean I have to spend loads of time volunteering as I haven't got very much free time with my full time job and my son but there is absolutely no pressure at all. We meet one evening a month for an hour or two to plan future events and this is a nice informal evening".
"I have been involved in quite a few events over the last few months but the most recent has to have been the best so far – it was the Mamma Mia Sing-A-Long evening. An absolutely brilliant evening for all the community, there was fancy dress, quizzes, prizes, singing and dancing along to the Mamma Mia film – it was great fun and all who came, thoroughly enjoyed the evening. It was a great success for us all and the church. At the same time as helping out that evening, we all got to know even more new people in the community".
We are currently planning Events for 2017 so if you would like to volunteer, please get in touch and you will soon be making new friends as well as helping your local Community".
Call at the centre for more information or phone Sue on 07582 684782
Hello, my name is Viviana and I have been a Volunteer here at the community centre since June 2016.
I am from Bogota Colombia and I came to England on a long holiday to improve my English and to travel around the country with my boyfriend Dan.
In my free time, I wanted to meet new people and practice my English language skills, while helping the local area. I saw that a volunteer was needed at the Centre and I thought this looked like a fantastic opportunity.
I have found working at the Community Centre very fulfilling. I have mainly helped out with the Wednesday Club and the Friday Coffee Mornings, which I have really enjoyed. Everybody is very friendly and it has been great to meet new people and to get involved in all the different activities.
The other staff have really made me feel welcome, which has been fantastic and I am very grateful to them for the help they have given me, especially when explaining things that I may not have understood.
Finally, thank you to everyone I have met and I will miss you all.
I hope to see you all again one day.
Viviana